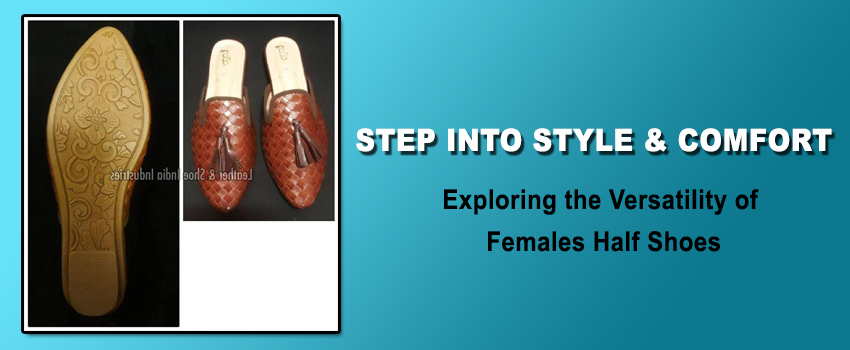 ptability. Shoes are a necessary part of every attire. These footwear, usually referred to as flats or ballerina flats, provide a comfortable substitute for heels while still looking stylish. We shall examine the advantages and fashionable appeal of women's half-shoes in this post.
Comfort for All-Day Wear
The comfort of women's half-shoes is one of its main benefits. They offer great support and permit natural foot mobility thanks to their flat soles and simple design. They are appropriate for all-day wear because there are no high heels or other uncomfortable restrictions.
Fashion & Style Statements
Female half-shoes by Females Half Shoes Supplier In Kolkata are in and of themselves a fashion statement. They let people show off their particular style because they are available in a broad variety of designs, hues, and materials. Half shoes provide a sense of elegance and sophistication to every ensemble. This is whether they have a traditional, basic style or a strong, bright pattern.
Flexible and Useful
Half-shoes are adaptable and go well with a variety of outfits. They are appropriate for a variety of events and go well with both casual and formal clothes. Female half shoes simply offer a touch of elegance and flair to every outfit, enhancing dresses, skirts, jeans, and pants.
Wearability and Convenience
Half-shoes for women are simple and quick to put on. They don't require intricate buckles or laces because of their slip-on style. They are a preferred alternative for those who value practicality and want hassle-free footwear because of their ease.
Suitable for Daily Activities
Half-shoes for women are particularly practical for daily tasks. The stability and flexibility offered by its flat sole make them ideal for strolling, running errands, and other modest activity. They provide comfort without sacrificing flair, enabling people to carry out their regular activities without difficulty.
Convenient For Travel
Female half shoes are great for traveling because of their slender and light style. They are practical for people who regularly travel or require an additional pair of shoes on the fly. This is because they take up little room in the luggage. Half-shoes are a great travel accessory because of their adaptability and comfort.
Perfect for Business Environments
Female half-shoes create a compromise between elegance and comfort in professional situations. They provide a more elegant substitute for trainers or sandals, giving a touch of class to business wear. Half-shoes allow people to maintain a professional image without compromising comfort all day.
Accessibility And Affordability
Compared to other styles of footwear, women's half shoes are frequently more cheap. Their accessibility is facilitated by their straightforward design and material selection. Half shoes are also readily accessible to customers because of their availability in a variety of retailers and online marketplaces.
Increasing Foot Health
Female half-shoes improve foot health by fitting more comfortably and naturally. They permit the feet to breathe and eliminate the pain brought on by high heels or shoes with small toes. The flat sole uniformly disperses weight, lowering the possibility of foot-related problems like bunions or calluses.
Comfort, Practicality, And Style
Half-shoes for women offer a great balance of fashion, comfort, and usefulness. When looking for comfortable yet attractive footwear solutions, people frequently choose them. This is because of their adaptability, ease of wear, and fashionable appeal.
Half shoes offer the ideal fusion of style and comfort, whether used for everyday activities, formal occasions, or travel. People may boldly march through their day with female half-shoes, knowing they are both beautifully dressed and well-equipped.