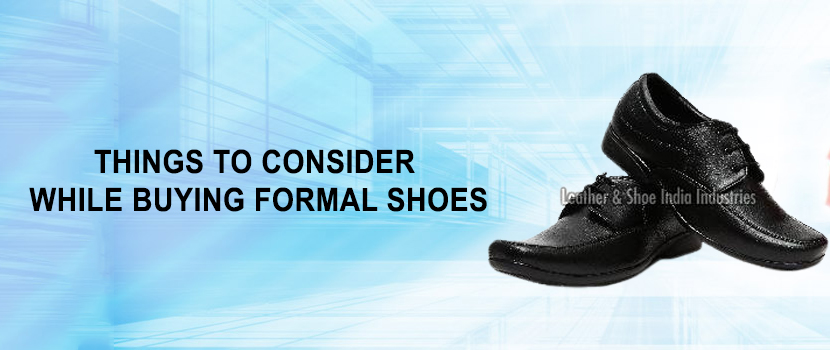 Even if you have a sizable collection of sharp shirts and pants. Your outfit wouldn't be complete without a pair of dress shoes. Formal shoes by a gents formal shoes manufacturer are ideal for wearing to the office and look great with both semi-casual and casual attire.
Formal footwear has experienced several improvements over time that make them more comfortable to wear.
But what should you consider before deciding to purchase a pair of dressy shoes? Here are a few pieces of advice:
Leather Is In Charge
When it comes to formal shoes, leather is the material of preference. Another common choice is suede, which is a kind of leather. You should use caution while purchasing leather shoes. Shoes made of high-quality leather are soft but durable. They smell distinctive, rather like polish. On a wet day, leather is not the ideal material to choose.
Put On Appropriate Attire
Nothing in the world of shoes is more formal than a pair of lace-up Oxfords. They go well with a suit, so you'll be prepared for that crucial office meeting. Derby shoes have an open lace and give your feet more room to move whereas Oxford shoes are recognized for their closed lacing.
These are less formal and more adaptable than Oxford's. Derby shoes may be worn with both business and semi-casual clothes.
Loafers may be your preference if you dislike laces and want a shoe that is simple to put on. Anything goes with these slip-on shoes, including khaki pants and formal trousers. The shoes with monk straps are another adaptable choice.
These shoes have a strap and buckle, just like the name would imply. High on style, you may wear them to a party or to work with ease.
The Comfort Element
Always try on your shoes while wearing socks to ensure proper fit. To see if your new shoes are comfy, take a stroll around the store in them. Wiggle your toes. If your toe touches the toe box of the shoe, the shoes are not the perfect fit for you.
What Color To Choose
Although black and brown formal shoes by the gents formal shoes manufacturer are classic choices, you may also choose a pair of blue or maroon formal shoes. if you want to break the mold. There are plenty of possibilities, but pick a pair that fits well with your personality and matches your style.
Comfort and Robustness
The finest footwear choice is a lightweight pair of shoes with a light rubber sole and cushioned inside. if you often walk around the workplace or work long hours. They'll undoubtedly come in handy if you continue to work through the night every day.
Brogues
Brogues are classic shoes that every man should own and be able to wear to both professional and business situations. Brogues in a single solid color may be worn just as tastefully as a dress shoe. It is good for professional occasions like meetings and informal work functions,
Tan brogues made of tan leather go best with an ensemble that combines white and navy blue. Black espadrilles go well with a black tie and suit combo.
Final Words
Many people concur that a man's footwear may reveal a lot about him. The perfect shoes may elevate your outfit and turn a basic appearance into one that differentiates you from the crowd. A pair of stylish, current, and comfortable shoes is a need while dressing professionally.